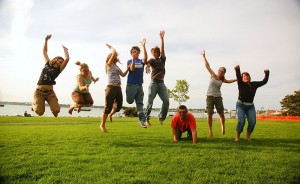 Did you truly choose this path?
The Practice: Find your own way.
Why?
The human body has about 100 trillion cells (plus another 10 quadrillion microscopic critters hitching a ride, most of them beneficial or harmless). Each one of your cells has aims — goals, in a sense — controlled by its DNA: Cells conduct processes aimed at particular functions, like building bones or gobbling up harmful invaders. Cells also work together in larger and larger assemblies in pursuit of broader goals, such as the 100 billion neurons in your brain that run the nervous system, which as a whole is itself the master regulator of the body.
In effect, there are layers, hierarchies, of goals in the body — and a similar architecture of aims in the mind. For example, operating right now is the goal of moving your eyes over these words, which serves the goal of understanding them, which serves larger goals such as desires to learn new things, new skills, and to be truly happy.
In short, whether in the body or the mind, there is no life without goals. Trying to "transcend" goals is itself a goal. The only question is: Are your goals good ones? In other words, do they lead to happiness and benefits for you and others rather than suffering and harms?
Google+
Tagged with: body function • natural health
Filed under: Fat Loss
Like this post? Subscribe to my RSS feed and get loads more!