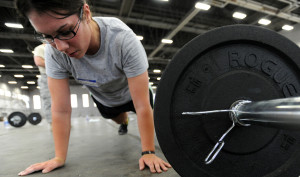 Slim down for summer, get your body beach ready, buff up for bikini season, get fit before Fourth of July; with summer just around the corner all of these phrases are relevant right about now, but let's be honest, they're also kind of obnoxious, too.
Getting in shape for summertime is a perfectly fine goal, but it's only a short-term one. It's a great starting point, but what would make it even better is if it were the beginning of a new exercise habit; one you intend to hold onto for life— not only for the sake of staying fit, but for the sake of your overall health too.
The being said, because we know just how important fitness is to your overall health and wellbeing, and because this time of year is a popular time for people to think about losing weight, several weeks back we got in touch with a panel of personal trainers in order to compile a list of their top tips for getting in shape for summer fast.
Google+
Tagged with: exercise • physical activity
Filed under: Exercise
Like this post? Subscribe to my RSS feed and get loads more!