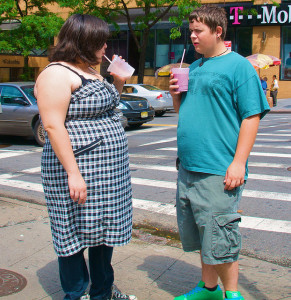 There has been a four-fold increase in the number of children and teenagers admitted to hospital for obesity-related conditions in the last decade, doctors in England and Wales warn.
In 2009, nearly 4,000 young people needed hospital treatment for problems complicated by being overweight compared with just 872 in 2000.
Rates of obesity surgery also went up, especially for teenage girls.
Doctors say the UK has the highest rate of child obesity in Western Europe.
Obesity has been linked with serious illnesses during childhood and an increased risk of developing conditions, such as type-2 diabetes, asthma and breathing difficulties during sleep.
National surveys in England suggest about three in 10 two-to-15-year-olds are overweight, while 14-20% are obese.
[header 3]Ticking time-bomb[/header]
A team led by Dr Sonia Saxena, of Imperial College London, analysed statistics on all NHS admissions for obesity – as a primary cause or alongside conditions that had been complicated by obesity – in hospitals in England and Wales over a 10-year period in patients aged five to 19.
Admissions were more common in girls than boys, the team reported in the journal Public Library of Science ONE.
Meanwhile, the number of cases of surgery for obesity rose from just one in 2000 to 31 in 2009, with the majority in teenage girls.
Over the whole 10-year period, a total of 20,885 young people were treated in hospital for obesity-related conditions.
Nearly three-quarters of cases involved problems complicated by being overweight, such as asthma, sleep apnoea, and pregnancy complications.
Read more of this article here
Google+
Tagged with: body function • diet • natural health • nutrition • obesity
Filed under: Nutrition • Obesity
Like this post? Subscribe to my RSS feed and get loads more!