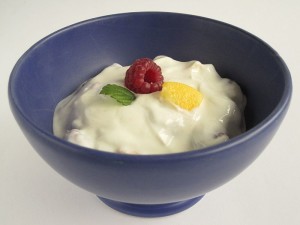 Yogurt has earned itself a reputation as a true health-food superstar. But know this: "Yogurt can turn into junk food really quickly," says Caroline Kaufman, RDN, a nutrition expert in San Francisco and an expert panelist for the Health Must-Eat List. Even if you skip the obvious offenders, like yogurts with crushed cookies or candy toppings, some pile on the sugar and excess calories. With so many choices out there — since 2010 alone, 671 new yogurt products have hit store shelves — how can you be sure you're choosing wisely? These guidelines will lead you to the standouts.
Keep it simple.
To make yogurt, all that's needed is milk and two live bacterial cultures, Lactobacillus bulgaricus and Streptococcus thermophilus, which turn the milk into yogurt via fermentation. "Beyond that, a few added extras for flavor, like a little sugar or some fruit, are fine," Kaufman says. Steer clear of products that have long lists of ingredients with things you can't pronounce or wouldn't expect to see in yogurt, like hydrogenated oils and artificial sweeteners.
Look for good bugs.
Probiotics — good bacteria similar to the ones living in your digestive tract — are yogurt's key ingredient. These beneficial bugs have been shown to help with digestion and gut health. But surprisingly, not all yogurt sold in stores actually contains "live and active cultures," as the bacteria in yogurt are known. Some companies heat-treat yogurt after culturing, which kills off bacteria, both good and bad, to make it more shelf-stable and reduce tartness.
Make calcium count.
Yogurt is a stellar source of bone-building calcium, but the amount can vary from brand to brand. Aim for one that has at least 15 percent of the daily value for calcium; the yogurts on our list contain anywhere from 15 to 35 percent.
Google+
Tagged with: diet • digestion • digestive system • enzymes • organic food
Filed under: Food Choices • Natural food • Nutrition
Like this post? Subscribe to my RSS feed and get loads more!