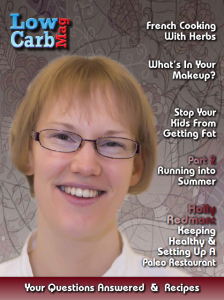 No… This magazine is never going to be about platitudes… but it is going to be about practical help and encouraging people to think about life in ways they may not have thought of before.
Low Carb Mag..
Gives you a sneak peak from Trina Felber. She has a business that produces make up using natural ingredients that are suitable for paleo, and low carb followers or in fact anyone who is mindful of their holistic health.
Holly Redman is another interesting lady that and they've got the full interview from her about her paleo journey and setting up her paleo restaurant.
If you're the sporting type you will no doubt have been enjoying Dave Bird's series on transitioning into summer exercise and they've got the second part of that this month where Dave tackles the subject of speed.
Plus, Paleo Chef Alain Braux is giving us the low down on using herbs in french cooking. So if you fancy something a little bit out of the ordinary then do dive in and find out about quick and easy ways to use herbs to make your dishes taste that much more well… French.
Google+
Tagged with: exercise • low carb diet • natural health • nutrition • Weight Loss
Filed under: Low carb diet • Recipe • Weight Loss
Like this post? Subscribe to my RSS feed and get loads more!