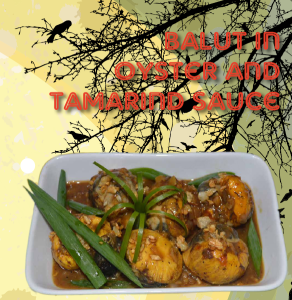 Balut is a fertilized duck egg with a nearly-developed embryo inside that is boiled and eaten in the shell. They are considered delicacies of Asia and especially the Philippines, China, Cambodia, and Vietnam.
Popularly believed to be an aphrodisiac and considered to be nutritious they are also low carb and high fat.
The Filipino and Malay word balut (balot) roughly translates to mean "wrapped".
Ingredients:
• 6 pcs balut eggs with shell, boiled
• 1 tablespoon butter
• 1 tablespoon garlic, minced
• 1 tablespoon onion, minced
• 2 tablespoon oyster sauce
• 1 tablespoon tamarind sauce
• Salt and pepper to taste
Garnishing:
• 2 sprigs spring onion, sliced
• 1/2 tsp garlic, browned
Click here for the Preparation Instructions
Google+
Tagged with: low carb • low carb diet • nutrition
Filed under: High Protein Diet • Low carb • Low carb diet
Like this post? Subscribe to my RSS feed and get loads more!