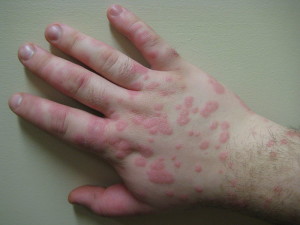 An allergic reaction happens when the body's immune system thinks something in a food (usually a protein) is harmful. Children are most likely to be allergic to peanuts and cow's milk. But they can also be allergic to:
Eggs
Fish
Shellfish
Tree Nuts
Wheat
Soy
Allergies to peanuts, tree nuts, fish, and shellfish are usually the most severe and last a lifetime. Your child may outgrow other food allergies.
Severe Food Allergy Symptoms
Your child is likely to have a reaction within a few minutes to an hour after eating a problem food. Symptom of a mild allergy include:
Hives
Rash
Nausea or vomiting
Diarrhea
Stomach pain
Symptoms of a severe allergy can include those listed above, as well as: 
Swelling of the lips, tongue, or throat
Trouble swallowing or breathing because of throat swelling
Shortness of breath or wheezing
Drop in blood pressure, causing dizziness and lightheadedness
Loss of consciousness
Chest pain
Google+
Tagged with: body function • natural health
Filed under: General Health
Like this post? Subscribe to my RSS feed and get loads more!